Hot Pursuit By Susanne O'Leary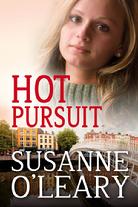 Can you wipe the slate clean and start a new life? Rita O'Brien hopes so. She leaves a broken heart and a failed business in Kerry for a new beginning among the bright lights of Dublin. She soon settles into her new life with new friends, but things get complicated when two men enter her life. Who is the right man for her? Ricardo, with his Latin good looks and easy charm, or Josh, the true-blue friend?
The turmoil in her life re-opens new wounds that Rita has kept buried deep inside. She realises she must confront her past and correct a mistake she made years ago. Will she make the right choice when it comes to love? Will her quest to find someone she lost heal her sorrows? Rita tries her best to find the right path in the hot pursuit of her dreams.
Set in Dublin and its beautiful surroundings with frequent trips back to the west of Ireland, this novel is the third in the popular Kerry series.
Available to buy now: