featured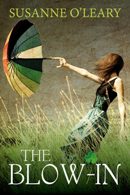 The Blow-In


Romance can lurk where you least expect it. Even in the depths of the Irish countryside. Political reporter Finola McGee is not the romantic type. She leads with her chin, shoots from the hip and takes no prisoners. When living on the edge loses its appeal, she escapes Dublin to run the local newspaper in a small Tipperary town. An easy job, friendly neighbours, lovely countryside, and fresh air—what's not to like?
But the rural bliss doesn't last longer than a weekend. Finola soon finds herself mixed up in a hornet's nest of conspiracies. And when Hollywood rides into town, a certain heartthrob adds a further twist to an already complicated romance…
See the video below to discover the story.
: