A Holiday to Remember By Susanne O'Leary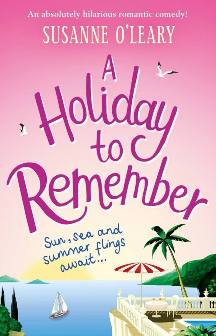 Until a few weeks ago, Leanne was a thirty-something who lived with her mother. And yes, she still slept under her Barbie bedspread.
Until recently, best friend Maddy was married to a man whose golf club got more action than she did.
But not anymore.
Leanne convinced Maddy enough was enough. They packed their bags, and their miniature poodle, and bid goodbye to their dreary lives for the summer.
Drinking wine under the stars and splashing around in the sparkling turquoise waters of Italy and the Dalmatian Islands should be every girl's dream. Except… it's not all plain sailing. Leanne soon sets her eyes on Carlo, a swoon-worthy Italian whose dark hair, green eyes and golden skin get her pulse racing. But does he have a secret? Maddy has her own opinions... as does Leanne on the new man in Maddy's life.
Just when Leanne was starting to think she might have found something special, she has to ask: will this just be a holiday to remember, or even one she'd rather forget?
Available to buy now: