Dreams of Willow House By Susanne O'Leary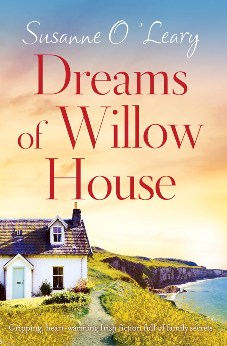 A gorgeous, compelling page-turner about one woman's journey to the heart of Ireland and the family secret she's destined to discover...
Cordelia Mirafiore has never truly felt at home in South Florida, so when she's unexpectedly called to the reading of a long-lost relative's will in Ireland, she's hopeful that escaping to Willow House to meet her family might help her to figure out who she really is…
As soon as Cordelia reaches Sandy Cove, the views of the blue ocean and stunning coastline around her provide a sense of calm she has never felt before. She meets her cousins Maeve and Roisin, who welcome her with open arms, finds herself drawn to a handsome man who is also an outsider in town, and feels an instant spark.
But the rest of the McKenna family aren't so willing to accept Cordelia, or even believe that she's family. When they learn that Cordelia is to inherit a third of Willow House, she is forced to prove who she is. All she has are old parish records and a battered box of family photographs, but they lead her to secrets she may not want to uncover.
Can Cordelia find the courage to face her family's past? Can she trust the mysterious man who has swept her off her feet? Or will the lies told for generations force her to leave Sandy Cove forever?
Second chances begin on Ireland's shores. An unforgettable story about mothers and daughters, Dreams of Willow House is perfect for fans of Sheila O'Flanagan, Debbie Macomber and Mary Alice Monroe.
Available to buy now: