Secrets of Willow House By Susanne O'Leary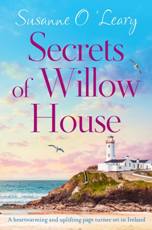 A charming and feel-good story about secrets, fresh starts and the power of friendship, set in the wilds of Ireland's shores.
Maeve McKenna is under doctor's orders. Having worked herself into the ground as a sought-after interior designer in London, she's in need of some serious TLC. After running away from home to escape a broken heart, it's time to face up to her past...
Philomena Duffy is a little lonely. After losing her husband, their crumbling mansion, Willow House, feels awfully empty.
In desperate need of a time-out, Maeve visits her aunt Philomena in Sandy Cove, where she once, as a teenager, kissed a wild, mysterious boy – a kiss she has never been able to forget. On the rugged western shore of Ireland, where the night's sky is dotted with stars as far as the eye can see, Maeve is world's away from her chaotic life in the city.
The fresh sea breeze and a blossoming friendship with her aunt is just the remedy – even if the old house is falling down around them. But as Maeve loses her heart to Sandy Cove, throwing herself into restoring Willow House back to its former glory and uncovering its secrets, reality calls. Can she bear to leave this beautiful place behind, just when she's starting to piece together her heart?
Available to buy now: